October 10, 2019
Modern Interior Design - Upgrading Home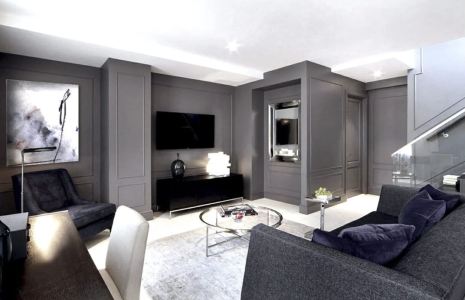 The past year, the American economy has been experiencing a severe downturn. As a result, homeowners have decided to avoid the housing market and have, in turn, decided to increase the resale value of their assets.

Remodelling homes has become a very popular way to coast through tough economic times and prepare for a strong economy again in the future. Affordable investments now could lead to a significantly increased resale value on your home in the next 10-15 years - a time when, hopefully, the housing market will be back in full force.
If you're looking for affordable ways to make your home look modern and unique, we suggest the following:
1. Floors
Upgrading your floors will have a very noticeable (and positive) impact on your home. Carpet is becoming outdated but laminate floors (especially in dark colors like chocolate brown and charcoal black) are an affordable way to give the impression of hardwood without breaking the bank. A large, off-white, shag rug draped over the floor where the couch and coffee table sit will really give your home a modern feel and impress potential homebuyers.
2. Furniture
The biggest problem with modern interior design is outdated furniture. It's extremely important that you choose cool, unique furniture in your home - otherwise all of your other upgrades will go unnoticed. Your guests will spend more time trying to figure out how you spent so much money on sleek floors and funky accessories and ended up with this horrendous furniture that all of your hard work will end up being a waste.
Light colors like beige and off-white furniture is becoming popular. Black furniture remains a classic choice for many homeowners as well. Stay conservative when it comes to couches but play up chairs and coffee tables with funky designs in a variety of shapes and sizes. This will give your visitors the impression that you care about what your home looks like but it won't seem like you're trying too hard.
3. Accessories
Accessories are the greatest way to improve the look of your home without having to spend a fortune. Modern homes generally feature unique accessories that often have some form of story associated with them. A unique and affordable way to decorate your home and add a personal touch to the interior design is to create your own art pieces.
Purchase a significant amount of canvas and spend a day experimenting with different paint colors and textures. You can choose the colors that suit your home and you'll have a great story to tell your guests when they comment on how amazing your art work is.
We hope our tips have helped and we wish you the best of luck with making your home modern. And remember, spending a few dollars now can mean making a lot more in the future.
Ariella Selene has been helping homebuyers find their perfect home for years. She is great at finding homes with modern interior design and realizes the importance of affordable but stylish home accessories.
Posted by: Interior at 07:02 AM | No Comments | Add Comment
Post contains 511 words, total size 3 kb.
11kb generated in CPU 0.13, elapsed 0.1216 seconds.
39 queries taking 0.0928 seconds, 44 records returned.
Powered by Minx 1.1.6c-pink.