October 10, 2019
How to Install a Peg Board?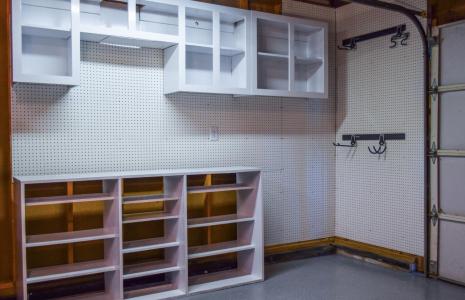 A peg board which is nothing but hardboard which has been drilled to give a perforated look. A peg board is used to keep machinery in an organized manner. The holes drilled in are meant to attach hooks or pegs on which many items can be hung. Pegboard is the name of a brand actually; the technical term for such board is perforated board. Following are the steps from
Otota.co
to install a pegboard by you discussed in detail.
1. Leave enough space behind the board
While you are mounting the perforated board, you need to pay attention to some details like there should be enough gap between the board and the surface on which you plan to hang it as the hooks on which you tend to hang your tools would need some space as they go to the back of the board.
2. Mark up the wall studs for strip support
This measure has no more significance than the fact that the strips which will support the board need to be attached firmly to the wall unit and to do that you need to mark up the studs and a stud sensor will help you to find the studs in the wall. Thus you do not need to hammer away the whole wall to locate the wall studs.
3. Provide a frame for back support of the pegboard
After you have marked the studs then mount a back support on the wall with two horizontal strips of wood and two vertical strips to form a rectangular frame and two vertical strips in between to serve as a support. Once this frame is mounted your work is almost done. Now all you need to do is mount the pegboard.
4. Size up you board
Once your frame is mounted then you need to cut your perforated board according to the size of the frame. Use a jigsaw or a table saw to cut the board out according to the set measurements. Do not try to cut the board with a blade or knife you might get hurt like that.
5. Mount your board on the frame
Once you have the board ready as per the measurements, attach the board on the framework with screws. You can use a drill to affix the screw in so that you board is attached firmly to the frame.
6. Arrangement
Now your perforated board is ready to use and you can arrange the hooks as per your liking. In case you feel that you might misplace the tools on board you can draw the outlines of the tools around their specific hooks so everything goes up on the right place.
The materials used for installing a perforated board are a pegboard, stud sensor, pencil, ruler, wooden strips, nails and screws, screw drills, table saw or jigsaw, and pegs or hooks. While undertaking such installation by yourself you need to be focused and careful enough so that you do not end up hurting yourself.
Posted by: Interior at 07:11 AM | No Comments | Add Comment
Post contains 506 words, total size 3 kb.
How to Paint Over a Popcorn Ceiling?
Popcorn ceiling, more often referred to as cottage cheese ceiling is a kind of paint on ceiling which has some very special acoustic benefits like absorbing noise and thus reducing it, this kind of ceiling also conceals any minor construction flaw and also gives the room a new refreshing look.

The texture of this acoustic ceiling is something like the inside of an orange peel, which increases the durability of ceiling and also makes it easier to clean and maintain. Initially Popcorn ceilings were made of asbestos, however after the ban of asbestos due to various health hazards a material called Styrofoam is now being used to manufacture these ceilings.
Painting a popcorn ceiling is not a difficult task and with a few precautions it can be easily done by anyone. Following are the steps to paint a popcorn ceiling all by yourself:
Cleaning and Prepping the Ceiling
Its common sense that any surface would need a clean up before getting painted. So, before you start dusting off your popcorn ceiling, you should cover everything else in the room, this will prevent dust settling on to the furniture in the room and also protect them from the splatters of paint caused by painting the top most surface.
Once surroundings are covered, its time you get prepared to protect yourself and wear a facial mask so that the dust does not choke you and the paint does not splatter on your face, also preferably cover your hair as paint in hair can get quite messy. Now you are all set to start with your painting task.
Getting Your Equipment Ready
The materials that you will need to paint your popcorn ceiling are:
Paint of your desired color.
A foam paint roller because a brush might scrape the popcorn texture off the ceiling.
And a high stool on which you can stand and paint your ceiling without straining your neck.
You will need a segmented foam paint roller so that it is easier to color the textured crevices of your ceiling.
For painting the popcorn ceiling you need to follow a pattern, first roll the paint roller in one motion, do not repeat or roll back as the ceiling starts to peel off once it gets wet as it has been sprayed on.
Thus just one steady coat is enough. In places where there are any stains you can spray some paint on beforehand and then apply a coat of paint. If the stains are intense then spray the color twice and coat again after the spray dries up.
One thing you should always keep in mind while painting a popcorn ceiling is that, once wet it will easily scrape off, so care should be taken while you paint it or apply spray on the problem spots.
Hope these tips were helpful enough to get this task done by yourself now, if not please comment below and let me know if you have any questions or a tip perhaps from your experience you'd like to share with all other DIY enthusiasts here.
Posted by: Interior at 07:09 AM | No Comments | Add Comment
Post contains 517 words, total size 3 kb.
Get Trendy: New Design Trends You Can Try Today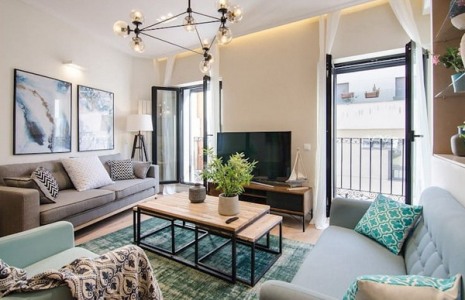 Decorating can be a daunting task, especially if you already own a bunch of pre-exiting furniture and decor pieces that you'd like to keep. Rather than just trashing an entire room and starting from zero, there are many ways you can incorporate new design trends into your existing space to create a room that you'd be happy to call your own.
If you have focused heavily on big box home decor store finds in your decorating, an easy way to bring your room up to speed is to spend some time in thrift or antique shops. Often you can find one of a kind piece of artwork that may have a color you love, or a collection of colored glass bottles that you can display on your mantle. Mixing new and old pieces can add certain flair to a space.
Paint is by far the best way to liven up a room. New colors for 2019 focus on the bold and the beautiful. Consider painting your kitchen a rich aquamarine or adding a feature wall to your bathroom that is bold orange. Once you choose your colors, liven up a wall or two with some wall art. Stickers that come in a variety of styles, colors and shapes can add depth to your walls.
Best of all? They are easy to remove so you can change your wall up whenever the mood suits you. If you've always wanted to add wallpaper to your bedroom, try wall stickers instead. Another easy way to change things up quickly is by adding rugs, whatever you are looking for, blue rugs, red rugs, green, silk, cotton you will find in a style and shape to suite your decor.
Texture is something that many people don't consider when decorating their rooms. Banish your flat, drab throw pillows and cushions for rich velvet or a blinged out brocade. Add some crystals to your lampshade or a slash of toile fabric around the base for an eye catching addition to your living room. Texture can lift an existing room and create a feel of luxury.
Some people collect items on vacation and bring them back, eager to place them on display in a room in their home. Often, the piece doesn't work well within the current decor of the room. It's become trendy to design spaces around cultural pieces. Work in that antique window frame you picked up into your bedroom as a mirror, and then add farmhouse touches to really play up the unique look it brings.
Shiny objects are big in 2019, and adding a few to your existing decor is sure to jazz up your room. Lamps with mirrored bases, crystals added to overhead lights, or metallic fabrics on your throw pillows: Add a few here and there where the light reflects in your room and watch as the entire space brightens up.
No matter if you add a few touches here and there or completely overhaul your existing room, finding a way to incorporate new and stylish trends into your home is a sure way to breathe life into your spaces. Pick at
www.toyota-makassar.com
and choose the trends you love the most, and have fun!
Posted by: Interior at 07:07 AM | No Comments | Add Comment
Post contains 541 words, total size 3 kb.
Right Kitchen Remodel For Your Home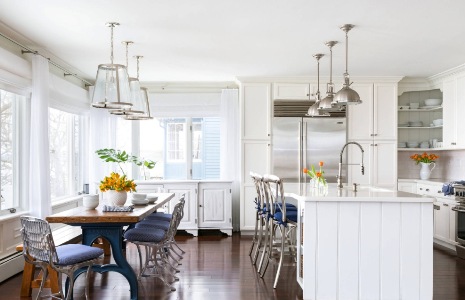 Kitchen remodeling can help you restore your kitchen into central space of the house. From conventionally a dungeon-like place to cook and wash dishes to a multi-use action center of the entire family, kitchens have absolutely become a vital part of the modern homes. The homemakers now want to get the best kitchen remodeling done in order to have the best possible in-kitchen experience. Kitchen is after all a place where you have to spend very important time, and good cooking comes with good surroundings.

Kitchen remodeling can be an exceptional mean to add value to your home. It is a very wide topic and consists of many smaller areas. It takes time and planning.

You'll want to make sure you are choosing the right kitchen remodel for your home and your budget. It is important that you research designs from several sources in order to make sure you have found the design that is perfect for your kitchen.

The first kitchen remodeling tilt is to believe the three basic kitchen functions: storage, food preparation, and clean-up. Additional considerations for small kitchens include space-saving built-in appliances at any time possible.

Using Local home improvement contractors gives you the advantage of working with well-informed home improvement experts. The difficulty of a house remodeling project depends upon the room being remodeled, the nature of the work to be done, and the capability of those doing it. Surviving the stress of a major home remodeling project can be a challenge.

For ideas regarding good custom made kitchens try to read up on as many articles and books on kitchen design, architectural style, cabinets, countertops, flooring, faucets and fixtures, as well as lighting. Great kitchen remodeling design takes the harmonization of kitchen design ideas, the assortment of kitchen cabinets, the arrangement of contractors and other professionals, and lastly, the conclusion of exceptional workmanship to create the kitchen of your dreams. In a family, generally everybody has a say in kitchen remodeling ideas because, even if they don't cook, they will spend time in the kitchen eating breakfast and extra meals if the dining table is located in the kitchen.
Posted by: Interior at 07:05 AM | No Comments | Add Comment
Post contains 361 words, total size 2 kb.
Pros And Cons of Real Fires for Fireplaces
There's something wonderful about having a real log fire or wood burner in the living room, and it's in vogue at the moment as many people have had them installed, even though they have perfectly good central heating systems. Many people don't want a real fire for its practical value - it's more about the cozy feeling and look that it can give a home.
Sage green and red living room with fireplace
However, it's worth considering the pros and cons before you go out and order one at
www.itrip.id
. They can be quite costly to install and you may have to have your chimney fitted with a new flue to meet regulations. Also when you have got the fire installed, you'll need to make sure that any furniture will be able to withstand the heat given out by your new fire. Some materials or surfaces are particularly heat sensitive, so you'll have to make sure everything is positioned carefully in the room to avoid any damage or fire hazards.
Modern elegant living room design with fireplace
If you want an open fire, you need to make sure that your flooring will withstand sparks or embers leaping out of the fire, or ensure that you use a proper fireguard. Having carpeting that goes right up to the fireplace is not a sensible idea. Wood burners are a better choice to avoid accidental burns from embers and actually disperse the heat more effectively around a room.
You may also want to consider what kind of fuel you're going to burn. Traditional logs can be messy and cause you a lot of extra cleaning. However, there are many versions of compressed sawdust logs which are much drier in content than traditional wood and therefore burn at a higher temperature. These come in vacuum packed plastic bundles and are a lot cleaner than traditional logs.
Having a real fire will create more dust in the room, so you may want to have glass fronted display cabinets or shelving units rather than open ones.
Fires are great for adding cosiness and warmth, but they will create a bit of extra work to maintain. Weigh up the pros and cons before making your decision.
Posted by: Interior at 07:04 AM | No Comments | Add Comment
Post contains 377 words, total size 3 kb.
Modern Interior Design - Upgrading Home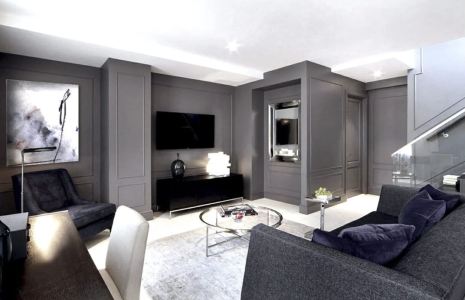 The past year, the American economy has been experiencing a severe downturn. As a result, homeowners have decided to avoid the housing market and have, in turn, decided to increase the resale value of their assets.

Remodelling homes has become a very popular way to coast through tough economic times and prepare for a strong economy again in the future. Affordable investments now could lead to a significantly increased resale value on your home in the next 10-15 years - a time when, hopefully, the housing market will be back in full force.
If you're looking for affordable ways to make your home look modern and unique, we suggest the following:
1. Floors
Upgrading your floors will have a very noticeable (and positive) impact on your home. Carpet is becoming outdated but laminate floors (especially in dark colors like chocolate brown and charcoal black) are an affordable way to give the impression of hardwood without breaking the bank. A large, off-white, shag rug draped over the floor where the couch and coffee table sit will really give your home a modern feel and impress potential homebuyers.
2. Furniture
The biggest problem with modern interior design is outdated furniture. It's extremely important that you choose cool, unique furniture in your home - otherwise all of your other upgrades will go unnoticed. Your guests will spend more time trying to figure out how you spent so much money on sleek floors and funky accessories and ended up with this horrendous furniture that all of your hard work will end up being a waste.
Light colors like beige and off-white furniture is becoming popular. Black furniture remains a classic choice for many homeowners as well. Stay conservative when it comes to couches but play up chairs and coffee tables with funky designs in a variety of shapes and sizes. This will give your visitors the impression that you care about what your home looks like but it won't seem like you're trying too hard.
3. Accessories
Accessories are the greatest way to improve the look of your home without having to spend a fortune. Modern homes generally feature unique accessories that often have some form of story associated with them. A unique and affordable way to decorate your home and add a personal touch to the interior design is to create your own art pieces.
Purchase a significant amount of canvas and spend a day experimenting with different paint colors and textures. You can choose the colors that suit your home and you'll have a great story to tell your guests when they comment on how amazing your art work is.
We hope our tips have helped and we wish you the best of luck with making your home modern. And remember, spending a few dollars now can mean making a lot more in the future.
Ariella Selene has been helping homebuyers find their perfect home for years. She is great at finding homes with modern interior design and realizes the importance of affordable but stylish home accessories.
Posted by: Interior at 07:02 AM | No Comments | Add Comment
Post contains 511 words, total size 3 kb.
28kb generated in CPU 0.0079, elapsed 0.0281 seconds.
30 queries taking 0.022 seconds, 53 records returned.
Powered by Minx 1.1.6c-pink.