October 10, 2019
Get Trendy: New Design Trends You Can Try Today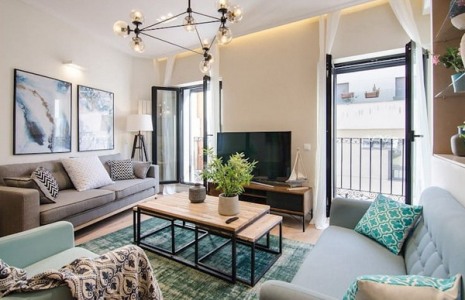 Decorating can be a daunting task, especially if you already own a bunch of pre-exiting furniture and decor pieces that you'd like to keep. Rather than just trashing an entire room and starting from zero, there are many ways you can incorporate new design trends into your existing space to create a room that you'd be happy to call your own.
If you have focused heavily on big box home decor store finds in your decorating, an easy way to bring your room up to speed is to spend some time in thrift or antique shops. Often you can find one of a kind piece of artwork that may have a color you love, or a collection of colored glass bottles that you can display on your mantle. Mixing new and old pieces can add certain flair to a space.
Paint is by far the best way to liven up a room. New colors for 2019 focus on the bold and the beautiful. Consider painting your kitchen a rich aquamarine or adding a feature wall to your bathroom that is bold orange. Once you choose your colors, liven up a wall or two with some wall art. Stickers that come in a variety of styles, colors and shapes can add depth to your walls.
Best of all? They are easy to remove so you can change your wall up whenever the mood suits you. If you've always wanted to add wallpaper to your bedroom, try wall stickers instead. Another easy way to change things up quickly is by adding rugs, whatever you are looking for, blue rugs, red rugs, green, silk, cotton you will find in a style and shape to suite your decor.
Texture is something that many people don't consider when decorating their rooms. Banish your flat, drab throw pillows and cushions for rich velvet or a blinged out brocade. Add some crystals to your lampshade or a slash of toile fabric around the base for an eye catching addition to your living room. Texture can lift an existing room and create a feel of luxury.
Some people collect items on vacation and bring them back, eager to place them on display in a room in their home. Often, the piece doesn't work well within the current decor of the room. It's become trendy to design spaces around cultural pieces. Work in that antique window frame you picked up into your bedroom as a mirror, and then add farmhouse touches to really play up the unique look it brings.
Shiny objects are big in 2019, and adding a few to your existing decor is sure to jazz up your room. Lamps with mirrored bases, crystals added to overhead lights, or metallic fabrics on your throw pillows: Add a few here and there where the light reflects in your room and watch as the entire space brightens up.
No matter if you add a few touches here and there or completely overhaul your existing room, finding a way to incorporate new and stylish trends into your home is a sure way to breathe life into your spaces. Pick at
www.toyota-makassar.com
and choose the trends you love the most, and have fun!
Posted by: Interior at 07:07 AM | No Comments | Add Comment
Post contains 541 words, total size 3 kb.
11kb generated in CPU 0.02, elapsed 0.0351 seconds.
40 queries taking 0.0261 seconds, 45 records returned.
Powered by Minx 1.1.6c-pink.